Quality policy
For us it is essential to earn and then maintain the confidence of our customers. Therefore, we place a preference on quality before short-term profits. We know that the success of our work is dependant on the systematic creation of good working conditions for internal employees and external collaborators. Fulfilment of the internal guidelines of our quality system, their development and perfection is demonstrated by the efficiency of the resulting work including keeping to the agreed deadlines for the completion of translation work with a guarantee of quality. To this aim, we perform research into customer satisfaction as an incentive for us to improve our activities. Our quality system requires that all employees constantly put new knowledge into practice and submit proposals for further perfection of this system.
Quality management system – ISO
In 2004 we obtained ISO 9001:2000 quality certification. Observance of the ISO standard is verified through regular internal audits and periodic annual audits. Taking into consideration that several large corporations and institutions in EU Member States and elsewhere require this certificate from all of their suppliers and their business partners, we can provide a notary verified copy of this document on request in the Czech language or in any foreign language based on your needs.
ISO Certificate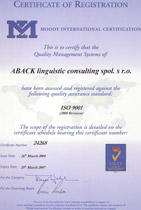 ISO Certificate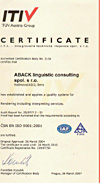 Insurance
We are insured for professional liability.